LifeCycles by Laurie Edwards-Tate originally published by CDN/Communities Digital News.
SAN DIEGO, Aug. 2, 2022 — President Ronald Reagan declared August National Peach Month on June 15, 1982.
The United States was the greatest producer of the world's supply of peaches at the time of the proclamation, producing 250 million pounds each year–benefiting the economy by generating revenue of approximately $325 million annually, according to U.S. Presidential Proclamation 4947.
What is not commonly known is that the peach originated in China in approximately 1,000 B.C.
The peach tree was considered by the Chinese to be the Tree of Life and a symbol of immortality.
Peach trees were brought to the United States in a variety of ways: by Columbus during his voyage, by the French who brought them to Louisiana from South America and by the English settlers who came to America and brought them to Jamestown.
Today, California ranks number one in the U.S. producing 505 thousand tons of peaches per year. It is not known how the current California drought will affect the availability of this highly valued and sought-after fruit.
Peaches are a popular summer fruit and become available in the markets from approximately June through the end of August.
As a versatile fruit, peaches are easy to prepare and are ideal for the summertime table–they can be baked, broiled, grilled, sauteed, sliced or chopped–adding tastefulness to many meals and snacks.
The following recipe from Cooking Light, berry-peach cobbler with sugared almonds, is a great way to include healthful peaches in a scrumptious summertime dessert.
Berry-Peach Cobbler with Sugared Almonds
Filling
• 3 (6-ounce) packages of fresh blueberries
• 3 (5.6-ounce) packages of fresh blackberries
• 3 medium-sized peaches, peeled and sliced
• Cooking spray
• 2/3 cup granulated sugar (or a comparable amount of sugar substitute)
• 2 1/2 tablespoons cornstarch
• 3 tablespoons fresh lemon juice
• 1/8 teaspoon salt (or light salt)
Topping
• 5 ounces (1 cup) all-purpose flour (or gluten-free flour)
• 1/4 cup granulated sugar (or comparable amount of sugar substitute)
• 2 tablespoons cornstarch
• 1/2 teaspoon baking powder
• 1/8 teaspoon salt (or salt substitute)
• 6 tablespoons chilled butter (or butter substitute), cut into small pieces
• 1/2 cup half-and-half (or low-fat half-and-half)
• 1/3 cup sliced almonds
• 3 tablespoons turbinado sugar (or sugar substitute)
• 1 tablespoon egg white
Preparation
1. Preheat oven to 350 degrees
1. Prepare filling: Combine blueberries, blackberries, and peaches in a 13 X 9-inch baking dish lightly coated with cooking spray. Sprinkle 2/3 cup granulated sugar, 2 1/2 tablespoons cornstarch, fresh lemon juice and 1/8 teaspoon salt over fruit; toss gently to combine.
1. Prepare topping: Lightly spoon flour into a dry measuring cup; level with a knife. Combine flour, 1/4 cup granulated sugar, 2 tablespoons cornstarch, baking powder, and 1/8 teaspoon salt. Stir well. Put butter into flour mixture with a pastry blender until mixture resembles coarse meal. Add half-and-half; gently knead dough until moistened. Drop dough by the spoonful evenly over top of filling. Combine almonds, turbinado sugar, and egg white, sprinkle over top.
1. Bake cobbler at 350 degrees for 50 minutes or until topping is browned. Let stand 10 minutes.
1. Serve warm and top with 1/3 cup vanilla fat-free ice cream: low-fat whipping cream or light whipped cream.
A single, one-cup serving of the berry-peach cobbler with sugared almonds, with 1/3 cup low-fat vanilla ice cream yields 321 calories and only 8.9 grams of fat.
Peaches are delightful to enjoy simply as a snack, and chopped or sliced as a garnish for yogurt, cereal, waffles, salads and more.
Surprisingly low in calories, with approximately 30-50 calories each, a peach is packed with fiber, vitamin A, vitamin C, selenium, magnesium, potassium, and calcium — it is good for your overall health while helping to maintain strong bones.
Reach for a peach while the time is still ripe and before August comes to an end!
Fall season officially begins September 23 this year, and with it the arrival of a new variety of seasonal fruits to anticipate and enjoy.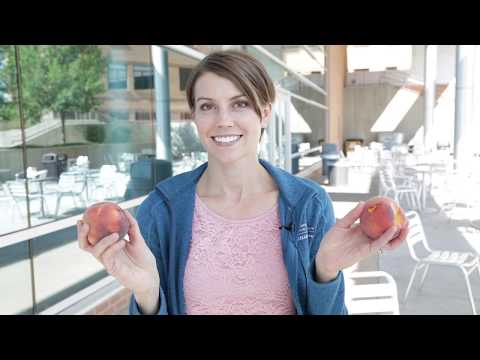 Until next time, enjoy the ride in good health!